Century Wharf Serviced Apartments - Cardiff
Century Wharf Serviced Apartments - Cardiff
51.467643487469594

,

-3.1708967685699463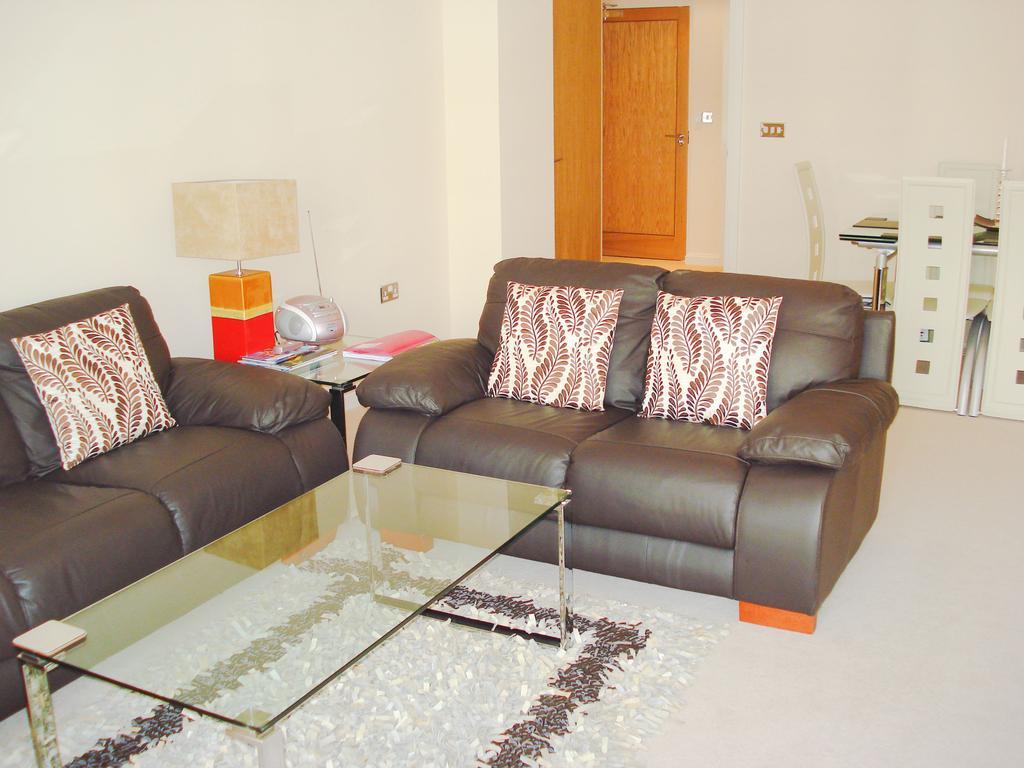 Century Wharf Serviced Apartments - Cardiff
Overview
The 6-room A Space In The City At Century Wharf apartment is set merely 1.5 km from Firing Line Museum of The Queen's Dragoon Guards and The Royal Welsh at Cardiff Castle. The apartment has a kitchen with a fridge and an oven provided.
Location
The property features accommodation in the Cardiff Bay district, not very far from the beautifully ornate pleasure palace "Cardiff Castle". It is a mere 1.5 km from Cardiff Winter Wonderland Amusement Park, and also close to Bay Art Gallery. The café Academy @ Platform is located only a few steps from the apartment. A Space In The City At Century Wharf apartment offers easy access to Spillers & Bakers, which is a mere 300 metres away.
The nearest airport is Cardiff, situated 25 km from apartment.
Rooms
The property provides guests with 6 rooms.
Good to know
Amenities
Private parking is possible on site for free.
Wireless internet is available in the apartment rooms for free.
Former name
a space in the city at century wharf
Facilities
Show all facilities
Hide facilities
Essential information about Century Wharf Serviced Apartments
| | |
| --- | --- |
| 💵 Lowest room price | |
| 📏 Distance to centre | 1.7 km |
| 🗺️ Location rating | 8.8 |
| ✈️ Distance to airport | 24.0 km |
| 🧳 Nearest airport | Cardiff, CWL |
Location
Address
The address has been copied.
Dumballs Road
,
Cardiff
,
United Kingdom
,
CF 10 5NS
,Wales
Dumballs Road
,
Cardiff
,
United Kingdom
,
CF 10 5NS
,Wales
City landmarks
Nearby
Restaurants
Hotels nearby
Westgate Street
Principality Stadium
1.6 km
Museum
National Museum Cardiff
2.1 km
Stadium
Motorpoint Arena Cardiff
1.2 km
Golden Cross Hayes Bridge Road
Wales National Ice Rink
910 m
Mall
St David's Dewi Sant
1.3 km
Gallery
Third Floor Gallery
710 m
Gallery
Butetown History and Arts Centre
600 m
Church
Norwegian Church Arts Centre
1.3 km
Church
The City Parish of St John the Baptist
1.5 km
Church
St David's Metropolitan Cathedral
1.5 km
Britannia Park Harbour Drive
11 St David's Way St David's - Dewi Sant
Statue of Sir Gareth Edwards
1.4 km
Heol Porth Teigr Cardiff Bay
World of Boats Cardiff Bay
1.2 km
Shopping Area
Capitol Shopping Centre
1.5 km
Public Building
National Assembly for Wales
1.2 km
Restaurant
R.P Culley & Co. Bar & Restaurant
720 m
Restaurant
Irie Shack Cardiff Bay
730 m
Restaurant
Mischief's Cafe Bar
800 m
Restaurant
Zaika Asian Cuisine
760 m
Reviews of Century Wharf Serviced Apartments
Share your experience with us.
Write a Review
missing

Quiet, good location ,

Could do with more cooking pans etc..the booking in was not very good ..

missing

A very well equipped apartment within a large apartment complex, based between Cardiff Bay and the city itself (quite a walk in each direction). A private car parking space was provided underneath the apartment block. We were met on arrival (you need to be fairly specific about your arrival time as a representative of the company waits for you in his car outside) and shown to the apartment. It was good to have a separate bedroom and living area/ kitchen, and we enjoyed our stay.

I was concerned when the price was deducted from my bank account in advance of the stay (the Booked.net site suggests that payment is made at the end of the stay), although this meant that everything was in order once we arrived. Be aware that if you pay by credit card there is a substantial extra charge (in the small print but I missed it). With hindsight we should have paid by debit card.

missing

Century Wharf was in easy walking distance to Millennium Centre and the rest of the bay entertainment and restaurants. The use of the leisure facilities were also first class.

missing

It was spacious, very clean, well appointed, very comfortable and had secure parking.

missing

Great place to stay, apartment was very clean and had everything we needed. The location was great to, only 5 Min's walk form Cardiff bay and 10 Min's from Cardiff shopping center. Will definitely stay here again.

missing

I liked the freedom and flexibility of it being self catering. The comfort and facilities of these apartments was far greater than most hotels.

Not really, apart from there being no tin opener in the kitchen lol!

missing

Canary Wharf Apartments is a excellent apartment and definitely more value for your money compared to staying at a hotel. We paid £170 for 2 nights which is an excellent rate. The location is in an excellent location as you are between the bay and the town center so you get an excellent choice as to which direction that you wanna go visit first. Everything is within a 10 -15 minute walk. Now for the actual apartment itself, it has separate rooms for the kitchen, bathroom, bedroom, and a large combined living/dining room. The apartment is a beautiful apartment with everything you need in the kitchen - washing machine, dishwasher, cooker, microwave, and fridge/freezer; the bedroom is very nice, and the rest is really nice as well. They also provided us with instant coffee and sugar and some soap and shampoo just like a hotel. The only thing I did not like about the bathroom is the shower/tub only has a small glass divider to keep the water from going onto the floor but it is a nice spacious bathroom. Another great thing is that they have free parking and free wifi which is very useful when looking for other places to visit. The parking is in a gated community which is very nice, however it was hard at first to figure out how to use the electronic lock to figure out how to get back in. One thing to note is they have to meet you to take you to your room as I think they just own several apartments in the complex so they dont have an office but that is in the description. Overall a very good place to stay at, if I ever decided to stay in Cardiff I would stay here again.

The pool/sauna is very hard to find as it is shared with other people in the complex and it has weird hours.

missing

The apartment was very nice, clean,comfortable,spacious and modern we only stayed for the weekend but would recommend to others. Would have like a mirror in the bedroom and some saucepans in the kitchen, but not a problem .

missing

A very good find Clean, quiet and Great location.

missing

The apartment was very well equipped with free secure undercover parking and I would be happy to use it again.

The only negative thing I found was no mirror near a electric socket for doing my hair.

missing

Very comfortable and clean. Designated and secure parking. Not too far from the Red Dragon centre.

One of the nights were too noisy.

missing

Very clean, had everything we needed, very good location to see across the City. Would definitely use again!

Was slightly worried when we had to drive through a run down old industrial estate to get to the complex.

missing

Excellent Apartment.The apartments are spacious and light and having free parking is excellent. The location is excellent. It was nice not to have to worry about bringing the extra things such as soap, towels, toilet roll, etc. We loved having a dishwasher, and the television was a very good size. The person who shows you to and around the apartment was very friendly and made you feel comfortable in staying there.

Although the flat was very clean, there was a slightly strange smell to the apartment and the bathroom did smell a bit damp, maybe because there was no window. Also the bed linen had a few marks on it so we had to turn it over so they were on the outside.

missing

Excellent situation, walking distance to the Bay area and the City centre. A spacious and very comfortable apartment.

We would have liked to use the leisure facilities, but they were quite a walk away, in another building.

missing

Big spacious apartment with plenty of room. Well decorated and most amenities provided. Secure underground parking provided. Nice overal except for a few non- working items and location not being in greatest area of Cardiff.

A number of the amenities were not working properly. While it had a big flat screen TV, this took 20 minutes to get a proper picture that was watchable. The bathroom fan and floor heating did not work. The apartment sells itself as being on the river, and strictly speaking some of the blocks are but this is not and it was a long walk to town and the docks area. The lift was not working and this meant carrying any luggage to the top floor so would not be suitable for anyone unfit or aged.
FAQ about Century Wharf Serviced Apartments
What popular attractions near Century Wharf Serviced apartments can I visit?
Guests of Century Wharf Serviced apartments can visit a nearby landmark, Spillers & Bakers.
Do Century Wharf Serviced apartments have a lift?
Yes, Century Wharf Serviced apartments do have a lift.
Where are Century Wharf Serviced apartments positioned?
Century Wharf Serviced apartments are situated in Cardiff Bay district only 1.5 km of St David's Hall.
Are there any dining venues close to these apartments?
Yes, you can have lunch or dinner at Academy @ Platform within 350 metres of these apartments.
Can we request an extra bed in Century Wharf Serviced apartments?
Century Wharf Serviced apartments do not provide extra beds. For more information, please contact the property.
Can I bring my pet to these apartments?
Unfortunately, these apartments aren't pet-friendly. Please contact the property to learn more about the exact terms and conditions.
Is there a parking near Century Wharf Serviced apartments?
Yes, Century Wharf Serviced apartments offer a car park.
Do Century Wharf Serviced apartments have a pool?
Yes, there is a swimming pool at Century Wharf Serviced apartments.
Is there any public transport close to Century Wharf Serviced apartments?
Yes, there is Dumballs Road bus stop within 200 metres away from Century Wharf Serviced apartments.